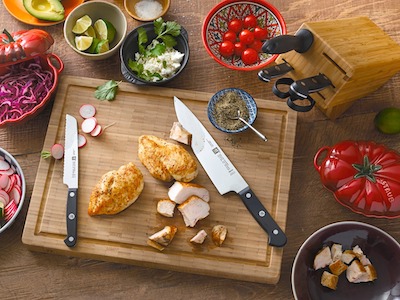 30 Hour Supervisor – ZWILLING
It's a culinary world and this is where our customer's journey starts – with you!
As a Shop Supervisor at ZWILLING a passion for the best is at the heart of your day. Working closely with the Shop Manager and assuming responsibility for the shop when the Shop Manager is not in store you will work at various times through the week, including weekends. You will work with a variety of like-minded colleagues who share a passion for great service, the best products and a sense of satisfaction serving delighted customers. Getting involved in many different aspects of work within the shop your shifts will always be different. You will be working deliveries, working on the till, demonstrating products, merchandising stock, and much more.
We want the small shop team to work together to ensure the store is clean, tidy and well-ordered so that customers can easily purchase our world-leading products. You'll be part of a close-knit team who will maintain service in store is at the highest possible standard.
Once your application has been reviewed if it matches to the requirements of the role someone from the ZWILLING team will get in touch to chat about your application. The process will include an online interview and/or face-to-face interview. We look forward to receiving your application.
Responsibilities
Provide competent advice/support to national and international customers
Use of the merchandise management and till systems
Ensuring that our company's guidelines and procedures are complied with at all times
Ensuring that excellent standards are maintained both by the team and on the sales area
Ensuring top customer service in the store
Monitoring the inventory
Ensure store is opened and closed in line with center opening times
Complete open and close procedures
Provide intensive and individual advice to the customers
Tracking and monitoring of orders
Maintenance and expansion of the customer base
Till and POS duties
Display window decoration as well as presentation of products in accordance with the
merchandising guidelines
Execution of the entire goods receiving process
Recording, comparison and booking out of goods via the merchandise management system
Price labelling of the goods
Preparation of goods dispatches and the technical booking in the merchandise management
system, in particular for the movement of goods between stores
Permanent maintenance and preservation of good organisation in the storage area
Assisting in the daily and weekly stock controls
Assisting in the execution and organisation of the annual inventory
Management of stocks
Control of goods and storage of the goods so that they remain in faultless condition
Management of incoming and outgoing goods
Sale of our premium products
Professional customer service and customer loyalty
Maintenance of products
Till and POS duties
Inspire customers with knowledge and passion for the brand
Processing of returns
Restocking goods
Maintenance of stock
Receipt of goods and checking including delivery and storage
Ensuring the appearance of the store
Requirements
Must be over 18 years of age
Retail experience, ideally in a premium brand store or working with luxury products
Leads by example,with a natural 'can do' work ethic
The hours worked will be on a 7-day rota basis and will include weekend working, Bank Holidays and evenings
Flexible availability for work in order to provide cover for holidays, absence, sickness and special events
Confidence to do product demonstrations
A keen interest in cooking and any kitchen skills you can bring to the role are advantageous
Apply
Can all applicants please send their CV/cover letter and position they are applying for to the below email addresses please.
Liz: e.collingwood@zwilling.co.uk
Simon: s.rowland@zwilling.co.uk